Welcome to Striking Media!
We are a media production company located in the DMV area. Focusing on all forms of visual communications - from customized photography and headshots - to videography that shares your message and makes a difference. We truly love our work and we believe that it shines through in the final product.
Striking Steps
How the Process Works
Pre Production
Script writing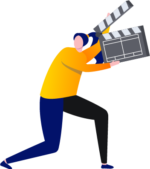 Production
Editing
Follow up
With decades of international video production experience we bring ideas to life.
Striking Services
We support our clients on every step of the production process - from concept to delivery. We film in studio and on location and we aim to make it as fun as possible. We write scripts, offer teleprompter training, we storyboard and give wardrobe advice! We're always thinking ahead - reusable content, behind the scenes for social media … we've got you covered!
Make An Impression
We can take an idea and bring it to life! We can see your company through a fresh lens to ensure you are showing the world your best self and making sure that you stand out from the crowd.